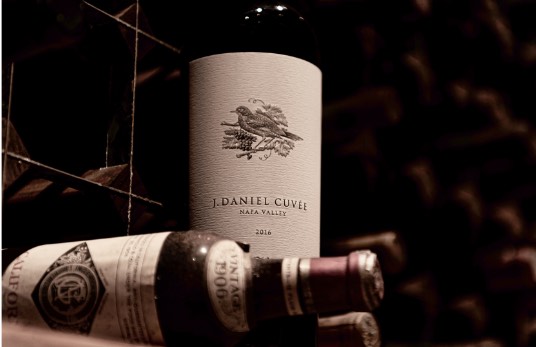 Robin Daniel Lail's heritage began in 1879 with the founding of Inglenook Vineyards by her great–granduncle, the iconic Captain Gustav Niebaum. By the early 1890s, this brilliant man's obsession for achieving the pinnacle of excellence earned Inglenook wines the status of being considered by many as the finest produced in the country.
The determination to achieve excellence was carried forward through the decades following Niebaum's death in 1908, with a crescendo in the thirty years following the repeal of Prohibition under the meticulous, passionate stewardship of John Daniel, Jr., Robin's father.
The collection of Cabernets coming from his years of ownership is still celebrated today as some of the finest red wines on earth.
Although Inglenook was sold in 1964, the passion for winemaking did not fade. Robin inherited her father's respect for tradition. Today her family honors his legacy with their relentless pursuit to produce wines second to none.
Read More
Inglenook Vineyards today; Robin in front of winery building, c. 1948
L to R, Christian Moueix, Robin Lail, and Robin's sister, Marky Smith, founding members of Dominus
L to R, Erin Lail, Robin Lail, Shannon Lail
1 / 4
The Fourth-Generation Vintner
"If you meet Robin, the wines make sense. They have power, finesse, charm and class." – Philippe Melka, Winemaker
I grew up at the fabled Inglenook Vineyards, home to four generations of my family and their legendary wines. From the time I was little, there was no escaping the magic of the land and the vineyards and the fascination of the winery. The passion of my father, John Daniel, Jr., was contagious. He called himself the caretaker of the family legacy, assuring my sister and me that it would be ours to take into the next generation.
My memories are indelible…playing in the mustard in the vineyards, hunting for arrowheads, tasting the little grapes with too many seeds, riding through the vineyards with Dad in our ancient truck, stopping at the winery on my way home from school, reveling in the aroma of harvest, smelling the wines that graced our dinner table every night.
When the winery was sold in 1964, I thought this beautiful family tradition had ended. However my destiny proved to be full of surprises. In the year prior to his death in 1970, Dad passed the baton of information and precious legacy to me. Suddenly, my life was on fast-forward. While managing the remaining estate vineyards and working with my mentor, Robert Mondavi, in the late '70s, I found the encouragement to start again. Almost every day he was at the winery, Mondavi would lecture me about my legacy, my father, and the importance of carrying on his work. He also provided me with the opportunity to launch the first Auction Napa Valley in 1981. In the '80s and '90s, I created valuable partnerships with the co-founding of Dominus and Merryvale with Christian Moueix and Bill Harlan, respectively.
These partnerships were a great education on many levels. However it soon became increasingly clear that the winemaking legacy of my family was languishing. As the sole fourth generation vintner in the area, I felt a responsibility to carry forward this important thread in the tapestry of California winemaking into the 21st Century. My husband, Jon, and our two daughters, Erin and Shannon agreed. We established Lail Vineyards in 1995. Today, six generations of our family have been touched by the passion of winemaking in Napa Valley and over 140 years of experience. We are keepers of the stories, in pursuit of wines of perfection and dedicated to making magic in the lives of our patrons.
Robin Lail
Read More
"As stewards of a legacy with a rebellious, generous spirit, our family is driven by innovation, sustainability and an affinity for the sublime. We want to share the soul of Napa Valley and be the first empty bottle on every table."
John Daniel, Jr. tasting a vertical of Inglenook wines,
c. 1933
Five Napa legends at the dedication of the historic Napa Valley sign: (L-R), Robert Mondavi, Charles Forni, Madame Fernande de Latour, John Daniel, Jr., and Al Huntsinger
John Daniel, Jr., c. 1960
1 / 4
"He taught not by words alone, but by example – the mark of a truly knowledgeable man." -Robert Mondavi
John Daniel, Jr. was born in San Francisco in 1907, and was raised by Gustav Niebaum's wife, Susan, following his mother's death in 1914. Susan lived primarily at Inglenook in Rutherford, and in his youth Daniel developed a fierce passion for the land and the legacy that would shape his life. He studied engineering at Stanford and became a gifted and dedicated aviator following graduation. In 1933, Prohibition was repealed and Inglenook was once again producing wine. Daniel became increasingly involved in the day-to-day business. His mentor was the brilliant, versatile Carl Bundschu who worked with Niebaum, and as General Manager shared Daniel's vision of re-establishing Inglenook as a producer of premium wines.
"Those who have had the opportunity to taste Daniel's Inglenook Cabernets know that they are among the greatest red wines ever made." –James Laube, The Wine Spectator
In the years following Prohibition, Inglenook became the standard bearer for Napa Valley Cabernet. In 1936, after Susan Niebaum's death, Daniel became owner of Inglenook, and from 1939 to 1964, under his guidance, the vineyards and the brand prospered. Measured by awards received in wine competitions around the world, his efforts were brilliant. The string of magnificent vintages made with his extraordinary winemaker, George Deuer, culminated in their successful Inglenook "Cask Cabernets", as they came to be called. These superlative and consistently fine wines are legendary and still coveted today by connoisseurs.
"When the historical dust has cleared away and the full story of California wine is written, John Daniel, Jr. will take his place as one of the truly outstanding men in the history of the industry." -L. R. Gomberg, Historian
Daniel brought innovation to the industry, touching not only the wines and wine business of Napa Valley, but of California as well. He adopted varietal rather than generic labels, and experimented with new varieties including Charbono, Red Pinot and Pinot St. George. Daniel was the first to put 'Napa Valley' as an appellation on his wines, and was a pioneer in vintage dating bottles. He played a key role in the founding of the Napa Valley Vintners Association and in creating awareness of Napa Valley as an appellation of distinction. As a testament to his impact on the wine industry, he was among the first inductees into the Vintners Hall of Fame, in 2008.
"John Daniel was the wine industry's conscience, and because of him the industry is sound, great and proud today." -Leon D. Adams, Historian
When he was fifty-five, faced with the loss of his experienced winemaker and a winery in need of major renovations, John Daniel, Jr. sold his beloved Inglenook and a portion of the vineyards. The year was 1964.
In 1970, this Renaissance man – gifted vintner, writer, pilot, story teller, community and industry leader, and beloved father – passed away. Thanks to the great wines he created and the advances he pioneered in the industry, Daniel's legacy is secure.
Today, Robin and her family, along with winemaker Philippe Melka, have carefully cultivated the Daniel tradition of excellence, relentless improvement, creativity and innovation. Their passion and expertise is the inspiration that shepherds Lail Vineyards today.
Read More
"To produce the finest wines which equal and exceed the most famous vintages of Europe, it is necessary to have the right kind of vines, grown on suitable soils, well manured, and most perfect cleanliness in handling, constant care and proper age."
Gustav Niebaum c. 1870; Inglenook Claret, the first Cabernet Sauvignon blended in a Bordeaux style in California
Captain Niebaum with Robin's Aunt Suzanne,
c. 1880
Inglenook cellar workers, circa, 1900
Inglenook takes 17 gold medals at 1915 Panama International Exposition
1 / 4
"I am going to make a California wine that will be sought by connoisseurs and will command as high a price as the famous French, German and Spanish wines, and I am prepared to spend all the money needed to accomplish that result." – Gustav Niebaum
Robin Lail's great-granduncle, Gustav Niebaum (originally Nybom), was born in Helsinki, Finland in August, 1842. The story of his early years is rich with fascination with the sea, Alaska and enterprise.
Starting with earning his Third Mate papers at 19, and culminating with the establishment of the Alaska Commercial Company in 1868, Niebaum's endeavors were always coupled with a quest for perfection and extraordinary vision.
Niebaum had a dream to produce wines ranking among the finest of the world, and did not come to Napa Valley by chance. He knew of the 1841 Russian explorations there, and had visited valley friends after moving to San Francisco. He had made a study of the world's great vineyards and knew exactly what he needed to pursue his dream. In 1879 he found Inglenook, set snug against Mt. St. John with rich alluvial soils. He was 37 years old.
"To produce the finest wines which equal and exceed the most famous vintages of Europe, it is necessary to have the right kind of vines, grown on suitable soils, well manured, and most perfect cleanliness in handling, constant care and proper age." This was Niebaum's rule.
"I am going to make a California wine that will be sought by connoisseurs and will command as high a price as the famous French, German and Spanish wines, and I am prepared to spend all the money needed to accomplish that result." A good look at Niebaum would suggest that he would accomplish what he set out to do. He was an imposing man; tall with dark hair and beard, standing 6'2". His shoulders were broad and his eyes were keen and forceful.
Niebaum was at the forefront of the experimentation in California viticulture in the 1880s. He may have been the first viticulturist in California to fertilize his vineyard and maintained a mammoth compost pile. He reduced the planting space in the vineyard to meter by meter, and was far ahead of his contemporaries with the grapes he planted, importing cuttings from the finest vineyards in Europe. At harvest, grapes were carefully sorted before going to the crusher – a novelty in his time. He studied endlessly to construct the most modern winery of its time. He demanded scrupulous cleanliness at his winery and was a staunch follower of Louis Pasteur. Inglenook's wines were the first in America to be bottled and sold in glass, instead of wood casks. Niebaum's marketing program was the first of its kind, as he established a network of distributors across the entire United States and Europe.
Excellence does not go unnoticed. Inglenook's wines were first recognized in international competition at the 1889 Paris Exposition, and won numerous prizes in the United States throughout Niebaum's lifetime and following his death. Gustav Niebaum - environmentalist, independent innovator, intellectual, collector, linguist, visionary - died in 1908. The winery was closed for three years.
In 1911, Inglenook reopened and continued to maintain its reputation for exceptional wines. Succeeding Niebaum was John Daniel, Sr., who was President, but more or less a figurehead with Lafayette Stice as the Operating Manager and winemaker. Nonetheless, at the Panama International Exposition in 1915 Inglenook won seventeen gold medals, more than any other participating winery. In 1920, Prohibition began and the winery once again closed. Inglenook was reduced to selling grapes to Beaulieu Vineyards to be made into sacramental wines.
Read More