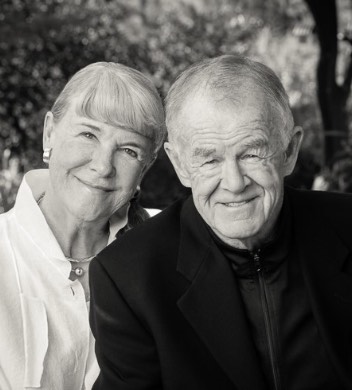 Robin grew up among the vineyards of Inglenook, founded in 1879 by her great-granduncle, Gustave Niebaum, who pioneered fine winemaking in the Napa Valley. Inglenook was passed down to Robin's grandfather and then to her father, John Daniel Jr., a true innovator (he was the first to put 'Napa Valley' on his labels, and pioneered varietal labeling) and wine industry leader who produced legendary wines. While Robin was not curried to work in the wine business in her youth, she was surrounded by it, and touched by her dad's passion and focus on tradition and excellence.
In 1964, two years after Robin graduated from Stanford University, her father sold Inglenook. It was not until 1970 and her father's death that she began shepherding the remaining estate vineyards. Seven years later she launched her vintner career as Robert Mondavi's personal assistant, who became her mentor in the wine business. While at Robert Mondavi Winery, she directed the creation of the first Auction Napa Valley. In 1982 Robin co-founded Dominus with Christian Moueix, and in 1983 co-founded Merryvale Vineyards with Bill Harlan, where she served as president for twelve years.
In the mid-nineties, Robin sold out of her partnerships with a vision of bringing her family's exciting legacy into the 21st Century. Her dream of creating her own extraordinary wines set flight in 1995 when she and her two daughters, Erin and Shannon, set out on their own by launching Lail Vineyards. Today, the venture carries forth the stories and patina of over 135 years of winemaking in the Napa Valley. The family continues its passionate quest to produce legendary wines from the blend of its ingredients – the land, the seasons, the team, and the spirit of the generations who led the way.